Places of suffering and antifascist struggle in Belgrade 1941-44. A handbook on reading the city
Edited by Rena Rädle and Milovan Pisarri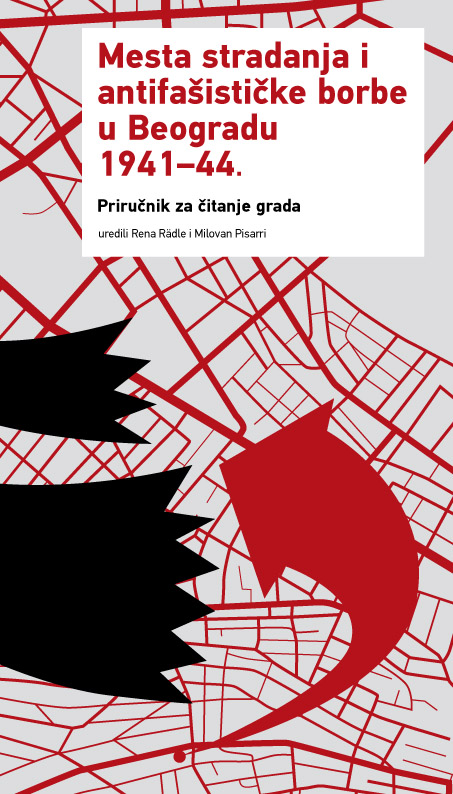 The 300-page publication was edited by Rena Rädle and Milovan Pisarri and emerged from the practice of public site visits, the "A visit to Staro Sajmište - starosajmiste.info" initiative organized in recent years in Belgrade. Similar to a historical city guide, the book topographically explores the history of fascist crimes and resistance during the German occupation and is structured in three "circles of terror" and two "lines of resistance".
Five chapters, each of which is preceded by a map with marked locations, introduce historical places of terror and resistance. The texts of historians Olga Manojlović Pintar, Milan Radanović, Milovan Pisarri and Nenad Lajbenšperger show how the methods of fascist terror have been implemented into the institutions of the collaboration apparatus and how people resisted against this terror. The descriptions of historical facts about the places of terror, concentration camps, prisons, execution sites and mass graves are complemented by personal testimonies, such as letters and survivors' reports on the suffering and mass murder of Jews and Roma, but also on the self-sacrificing struggle against fascism in the occupied city, far away from the liberated territories. Some documents, especially about the persecution of the Roma, have been published for the first time.
The historical part is preceded by an essay by Enzo Traverso that was taken from his book "The past, instructions for use. History, memory, politics" and translated into Serbian. Finally there is a glossary of key terms to fascism and anti-fascism, compiled by Petar Atanacković, Nataša Lambić and Ilija Malović.
From the preface:
"The book is designed to be a tool in the hands of those who are not indifferent towards the events Belgrade faced during Nazi occupation 1941-44 and want to get involved against oblivion, silence and falsification of this dark chapter in history."

Realized with the support of Rosa Luxemburg Stiftung Southeast Europe within the project Visit of Staro Sajmiste - Paths, 2012.
DOWNLOAD